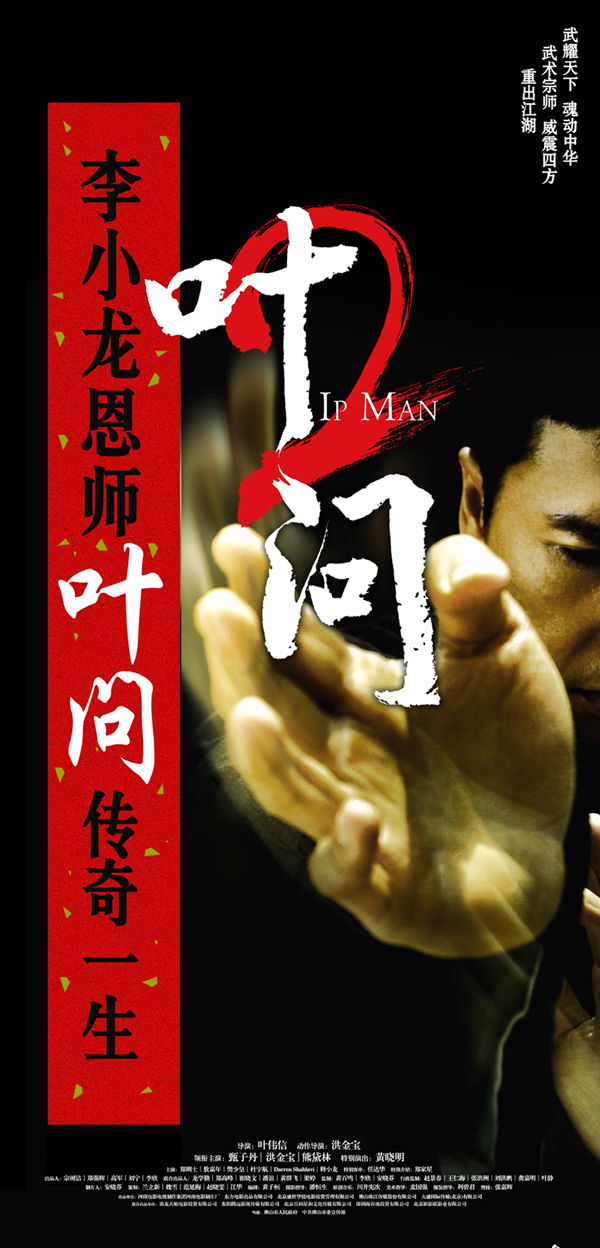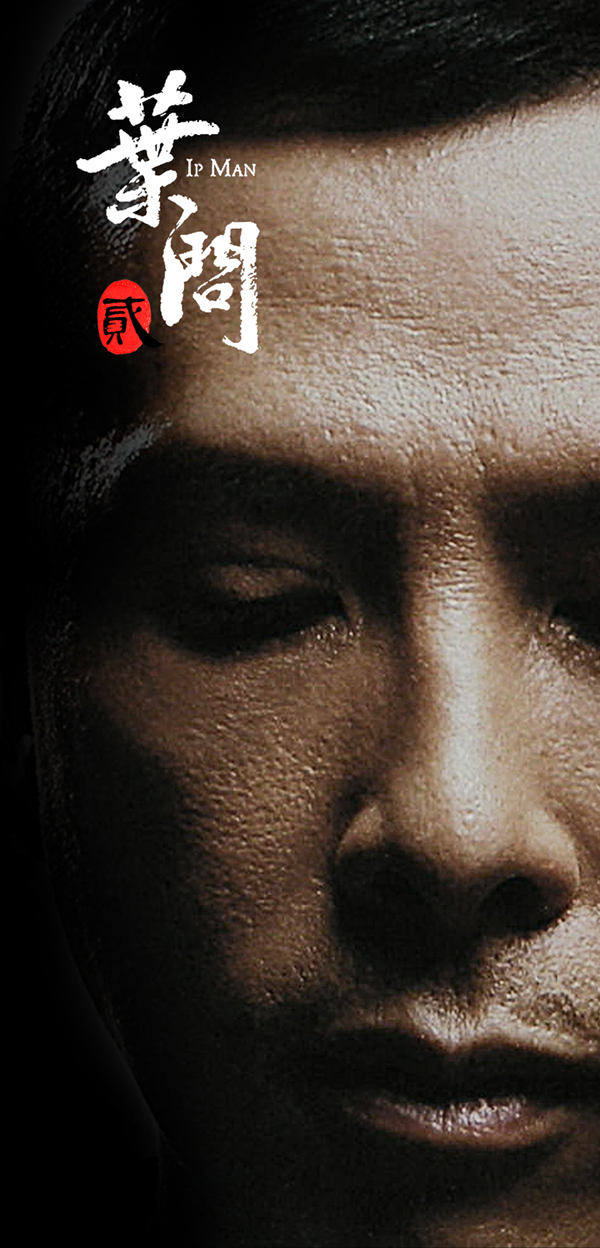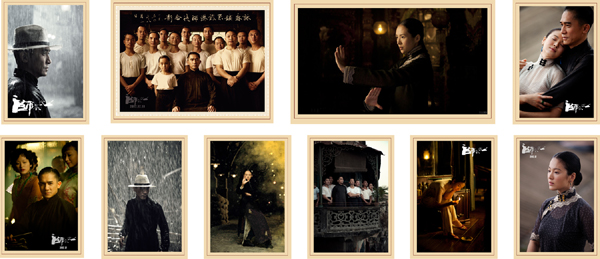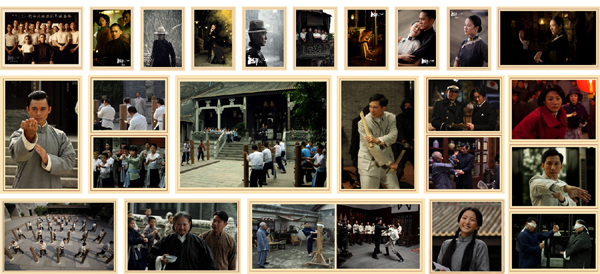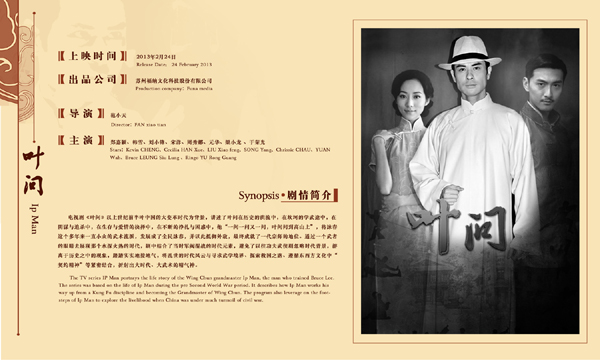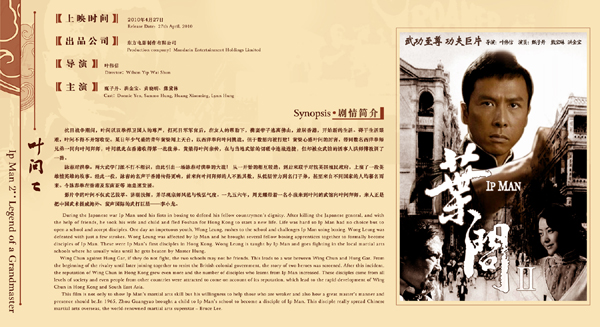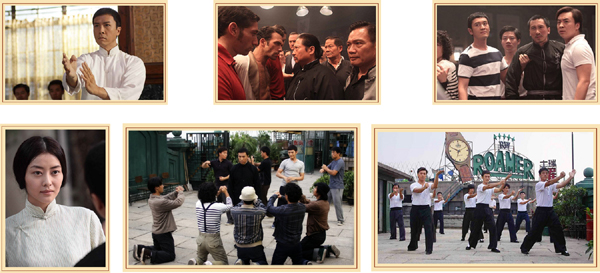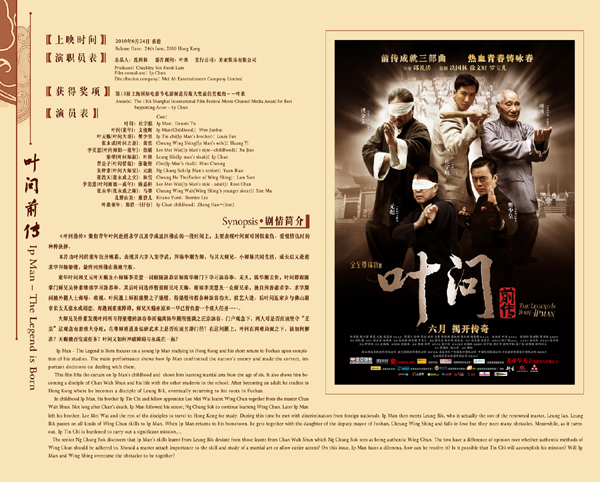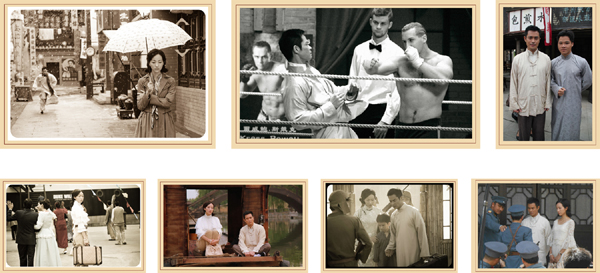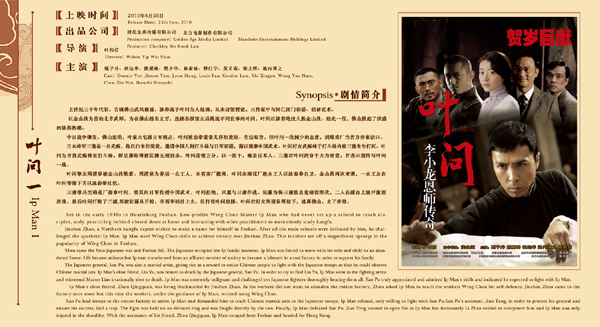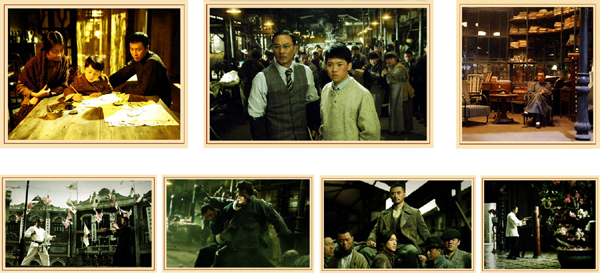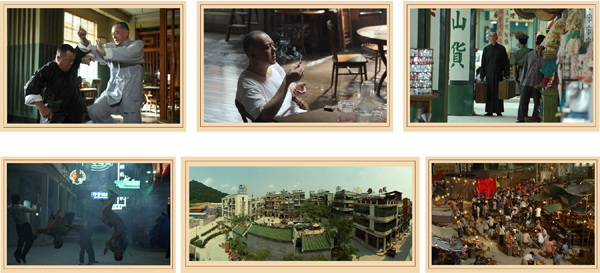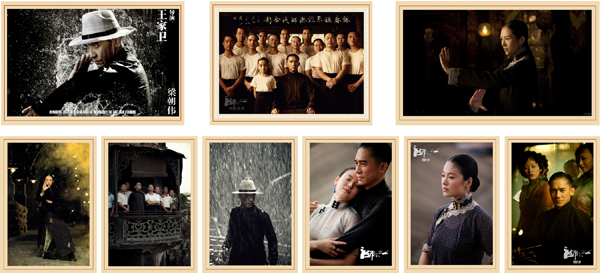 相关影视作品
Related Movies
一、《叶问1》
Ip Man 1
上映时问:2010年6月25日
Release date:25th June, 2010
出品公司:时代金典传媒有限公司
东方电影制作有限公司
Production company:Golden Age Media Limited
Mandarin Entertainment Holdings Limited
Producer:Checkley Sin Kwok Lam
导演:叶伟信
Director:Wilson Yip Wai Shun
主演:甄子丹、任达华、熊黛林、樊少皇、林家栋、释行宇、黄又南、陈之辉、池内博之
Cast:Donnie Yen ,Simon Yam, Lynn Hung, Louis Fan, Gordon Lam, Shi Xingyu, Wong You Nam, Chen Zhi Hui, Ikeuchi Hiroyuki
剧情简介: Synopsis:
上世纪三十年代初,古镇佛山武风鼎盛。詠春高手叶问为人低调,从未设馆授徒,只待家中与同仁闭门切磋、钻研武术。
以金山找为首的北方武师,为在佛山扬名立万,连挫各派馆主后挑战不问世事的叶问,叶问以詠春绝技大胜金山找。经此一役,佛山掀起了炽盛的詠春热潮。
中日战争爆发,佛山沦陷,叶家大宅被日军强占,叶问被迫带着妻儿移居废屋。生活艰苦,但叶问一改阔少的态度,到煤炭厂当苦力养家活口。
日本将军三蒲是一名武痴,他以白米作奖赏,邀请中国人到打斗场与日军切磋,藉以观摩中国武术。叶问好友武痴林于打斗场内被三蒲生生打死。叶问为寻找武痴林至打斗场,即见廖师傅被佐腾无理射杀。叶问悲愤万分,以一敌十,痛击日本人。三蒲对叶问的身手大为欣赏,并表示期待与叶问一战。   
叶问挚友周清泉被金山找勒索。周清泉为养活一众工人,未有弃厂撤离,叶问在棉花厂教众工人以詠春拳自卫。金山找再次来袭,一众工友在叶问带领下齐以詠春拳反抗。   
三蒲带兵至棉花厂捉拿叶问,要其向日军传授中国武术,叶问拒绝,只愿与三蒲作战。佐藤为保三蒲胜出竟暗设埋伏,二人在擂台上展开激烈决战。最后叶问打败了三浦,却被佐藤开枪,幸而李钊扑上去,仅打伤叶问肩膀。叶问在好友周清泉帮助下,逃离佛山,去了香港。
Synopsis:
Set in the early 1930s in flourishing Foshan. Low-profile Wing Chun Master Ip Man who had never set up a school to teach disciples, only practicing behind closed doors at home and interacting with other practitioners to meticulously study kungfu.
Jinshan Zhao, a Northern kungfu expert wished to make a name for himself in Foshan. After all the main schools were defeated by him, he challenged the apathetic Ip Man. Ip Man used Wing Chun skills to achieve victory over Jinshan Zhao. This incident set off a magnificent upsurge in the popularity of Wing Chun in Foshan.
Then came the Sino-Japanese war and Foshan fell. The Japanese occupied the Ip family mansion. Ip Man was forced to move with his wife and child to an abandoned house. Life became arduous but Ip man transformed from an affluent member of society to become a labourer in a coal factory in order to support his family.
The Japanese general, San Pu, was also a martial artist, giving rice as a reward to entice Chinese people to fight with the Japanese troops so that he could observe Chinese martial arts. Ip Man's close friend, Lin Yu, was beaten to death by the Japanese general, San Pu. In order to try to find Lin Yu, Ip Man went to the fighting arena and witnessed Master Liao irrationally shot to death. Ip Man was extremely indignant and challenged ten Japanese fighters thoroughly beating them all. San Pu truly appreciated and admired Ip Man's skills and indicated he expected to fight with Ip Man.   
Ip Man's close friend, Zhou Qingquan, was being blackmailed by Jinshan Zhao. As his workers did not want to abandon the cotton factory, Zhou asked Ip Man to teach the workers Wing Chun for self-defence. Jinshan Zhao came to the factory once more but this time the workers, under the guidance of Ip Man, resisted using Wing Chun.   
San Pu lead troops to the cotton factory to arrest Ip Man and demanded him to teach Chinese martial arts to the Japanese troops. Ip Man refused, only willing to fight with San Pu.San Pu's assistant, Zuo Teng, in order to protect his general and ensure his success, laid a trap. The fight was held on an elevated ring and was fought fiercely by the two. Finally, Ip Man defeated San Pu. Zuo Teng wanted to open fire at Ip Man but fortunately Li Zhao rushed to overpower him and Ip Man was only injured in the shoulder. With the assistance of his friend, Zhou Qingquan, Ip Man escaped from Foshan and headed for Hong Kong.
二、《叶问2:宗师传奇》
《Ip Man 2:Legend of a Grandmaster》
上映时间:2010年4月27日
Release date:27th April, 2010
出品公司:东方电影制作有限公司
Production company:Mandarin Entertainment Holdings Limited
导演:叶伟信
Director:Wilson Yip Wai Shun
主演:甄子丹、洪金宝、黄晓明、熊黛林
Cast:Donnie Yen, Sammo Hung, Huang Xiaoming, Lynn Hung
剧情简介:
抗日战争期间,叶问以双拳捍卫国人的尊严,打死日军军官后,在友人的帮助下,携妻带子逃离佛山,旅居香港,开始新的生活。碍于生活艰难,叶问不得不开馆收徒。某日年少气盛的青年黄梁闯上天台,以西洋拳向叶问挑战,但于数招内被打败!黄梁心感叶问的厉害,带同数名西洋拳师兄弟一同向叶问拜师,叶问就此在香港收得第一批徒弟。黄梁得叶问亲传,在与当地武馆的切磋中连战连捷,但却被众武馆的话事人洪师傅教训了一番。
詠春对洪拳。两大武学门派不打不相识,由此引出一场詠春对洪拳的大战! 从一开始的相互较劲,到后来联手对抗英国殖民政府,上演了一段英雄惜英雄的故事。经此一役,詠春的名声于香港传得更响,前来向叶问拜师的人不胜其数,从低层苦力到名门子弟,甚至来自不同国家的人均慕名而来。令詠春拳在香港及东南亚等地急速发展。
影片中的叶问不仅武艺拔萃、济弱扶倾,并尽现宗师风范与恢弘气度。一九五六年,周光耀带着一名小孩来到叶问的武馆向叶问拜师,来人正是把中国武术扬威海外、蜚声国际的武打巨星──李小龙。
Synopsis:
During the Japanese war Ip Man used his fists in boxing to defend his fellow countrymen's dignity. After killing the Japanese general, and with the help of friends, he took his wife and child and fled Foshan for Hong Kong to start a new life. Life was hard so Ip Man had no choice but to open a school and accept disciples. One day an impetuous youth, Wong Leung, rushes to the school and challenges Ip Man using boxing. Wong Leung was defeated with just a few strokes. Wong Leung was affected by Ip Man and he brought several fellow boxing apprentices together to formally become disciples of Ip Man. These were Ip Man's first disciples in Hong Kong. Wong Leung is taught by Ip Man and goes fighting in the local martial arts schools where he usually wins until he gets beaten by Master Hung.
Wing Chun against Hung Gar, if they do not fight, the two schools may not be friends. This leads to a war between Wing Chun and Hung Gar. From the beginning of the rivalry until later joining together to resist the British colonial government, the story of two heroes was screened. After this incident, the reputation of Wing Chun in Hong Kong grew even more and the number of disciples who learnt from Ip Man increased. These disciples came from all levels of society and even people from other countries were attracted to come on account of its reputation, which lead to the rapid development of Wing Chun in Hong Kong and South East Asia.
This film is not only to show Ip Man's martial arts skill but his willingness to help those who are weaker and also how a great master's manner and presence should be.In 1965, Zhou Guangyao brought a child to Ip Man's school to become a disciple of Ip Man. This disciple really spread Chinese martial arts overseas, the world-renowned martial arts superstar – Bruce Lee.
三、《叶问前传》
Ip Man – The Legend is Born
一、 上映时间:2010年6月24日 香港
1.Release date:24th June, 2010 Hong Kong
25th June, 2010 China
30th June, 2010 Singapore
3rd July, 2010 Taiwan
二、演职员表Full cast and crew
出品人:冼国林
Producer:Checkley Sin Kwok Lam
影片顾问:叶准
Film consultant:Ip Chun
发行公司:美亚娱乐有限公司
Distribution company:Mei Ah Entertainment Company Limited
Production company:National Arts Films Production Limited
二、获得奖项:第13届上海国际电影节电影频道传媒大奖最佳男配角--叶准
3.Awards:The 13th Shanghai International Film Festival Movie Channel Media Award for Best Supporting Actor – Ip Chun
四、演员表:.Cast:
叶问:杜宇航
Ip Man:Dennis To
叶问(童年):文俊辉
Ip Man(Childhood):Wen Junhui
叶天赐(叶问大哥):樊少皇
Ip Tin chi(Ip Man's brother):Louis Fan
张永成(叶问之妻):黄奕
Cheung Wing Shing(Ip Man's wife):Huang Yi
李美慧(叶问师姐—童年):徐娇
Lee Mei Wai(Ip Man's sijie—childhood):Xu Jiao
梁壁(叶问师叔):叶准
Leung Bik(Ip man's sisuk):Ip Chun
曹公子(叶问情敌):张敬轩
Cho(Ip Man's rival):Hins Cheung
吳仲素(叶问大师兄):元彪
Ng Chung Sok(Ip Man's senior):Yuen Biao
张浩天(张永成之父):林雪
Cheung Ho Tin(Father of Wing Shing):Lam Suet
李美慧(叶问师姐—成年):陈嘉桓
Lee Mei Wai(Ip Man's sijie - adult):Rose Chan
张永华(张永成之妹):马赛
Cheung Wing Wah(Wing Shing's younger sister):Sire Ma
北野由美:廖碧儿
Kitano Yumi:Bernice Liu
叶准童年:郑浩一(仔仔)
Ip Chun childhood:Zheng Hao一(Son)
五、剧情简介:
《叶问前传》聚焦青年叶问赴港求学以及学成返回佛山的一段时间上,主要表现叶问面对国恨家仇、爱恨情仇时的种种抉择。
本片由叶问的童年拉开帷幕,表现其六岁入室学武,拜陈华顺为师,与其大师兄、小师妹共同生活,成长后又赴港求学拜师梁璧,最终回到佛山落地生根。
童年叶问和义兄叶天赐及小师妹李美慧一同跟随咏春宗师陈华顺门下学习詠春拳。未久,陈华顺去世,叶问即跟随掌门师兄吴仲素继续学习詠春拳。其后叶问选择暂别师兄叶天赐、师妹李美慧及一众师兄弟,独自到香港求学。求学期间被外籍人士侮辱、歧视。叶问遇上师祖梁赞之子梁璧,得梁璧传授各种詠春功夫,技艺大进。后叶问返家乡与佛山副市长女儿张永成相恋,却遇到重重障碍,师兄天赐亦原来一早已背负着一个重大任务……。
大师兄吴仲素发现叶问所习得梁璧的詠春拳而偏离陈华顺所强调之正宗詠春。门户观念下,两人对是否应该坚守"正宗"这观念有着重大分歧,在尊师重道及钻研武术上是否应该另辟门径?在这问题上,叶问在两难局面之下,该如何解决?天赐能否完成任务?叶问又如何冲破障碍与永成在一起?
Synopsis:
Ip Man – The Legend is Born focuses on a young Ip Man studying in Hong Kong and his short return to Foshan upon completion of his studies. The main performance shows how Ip Man confronted the nation's enemy and made the correct, important decisions on dealing with them.
This film lifts the curtain on Ip Man's childhood and shows him learning martial arts from the age of six. It also shows him becoming a disciple of Chan Wah Shun and his life with the other students in the school. After becoming an adult he studies in Hong Kong where he becomes a disciple of Leung Bik, eventually returning to his roots in Foshan.
In childhood Ip Man, his brother Ip Tin Chi and fellow apprentice Lee Mei Wai learnt Wing Chun together from the master Chan Wah Shun. Not long after Chan's death, Ip Man followed his senior, Ng Chung Sok to continue learning Wing Chun. Later Ip Man left his brother, Lee Mei Wai and the rest of the disciples to travel to Hong Kong for study. During this time he met with discrimination from foreign nationals. Ip Man then meets Leung Bik, who is actually the son of the renowned master, Leung Jan. Leung Bik passes on all kinds of Wing Chun skills to Ip Man. When Ip Man returns to his hometown, he gets together with the daughter of the deputy mayor of Foshan, Cheung Wing Shing and falls in love but they meet many obstacles. Meanwhile, as it turns out, Ip Tin Chi is burdened to carry out a significant mission….
The senior Ng Chung Sok discovers that Ip Man's skills learnt from Leung Bik deviate from those learnt from Chan Wah Shun which Ng Chung Sok sees as being authentic Wing Chun. The two have a difference of opinion over whether authentic methods of Wing Chun should be adhered to. Should a master attach importance to the skill and study of a martial art or allow easier access? On this issue, Ip Man faces a dilemma, how can he resolve it? Is it possible that Tin Chi will accomplish his mission? Will Ip Man and Wing Shing overcome the obstacles to be together?
六、相关实物
1、电影频道传媒大奖:最佳男配角—叶准
奖牌: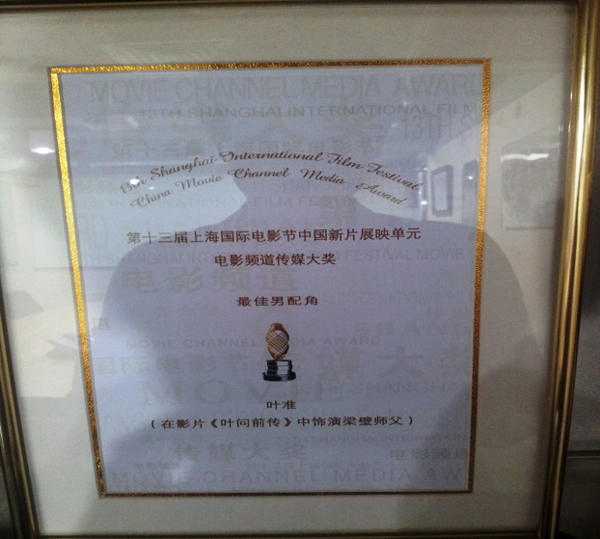 奖杯: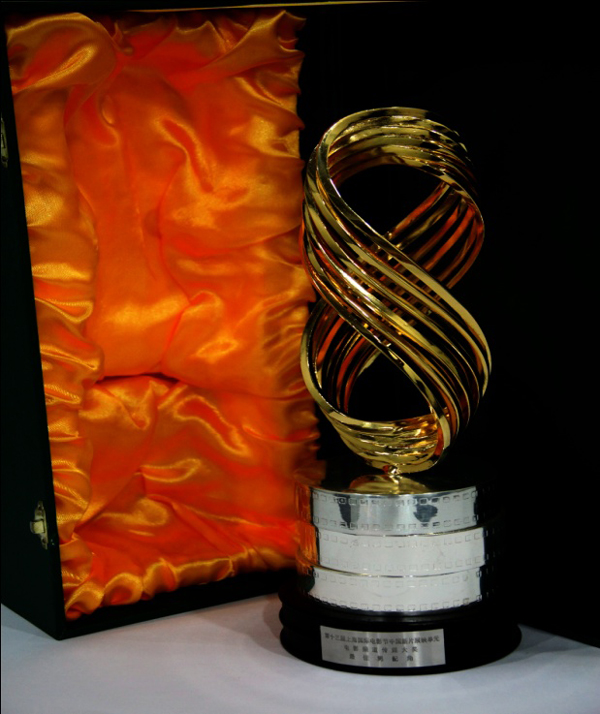 2、电影频道传媒大奖入围奖:《叶问前传》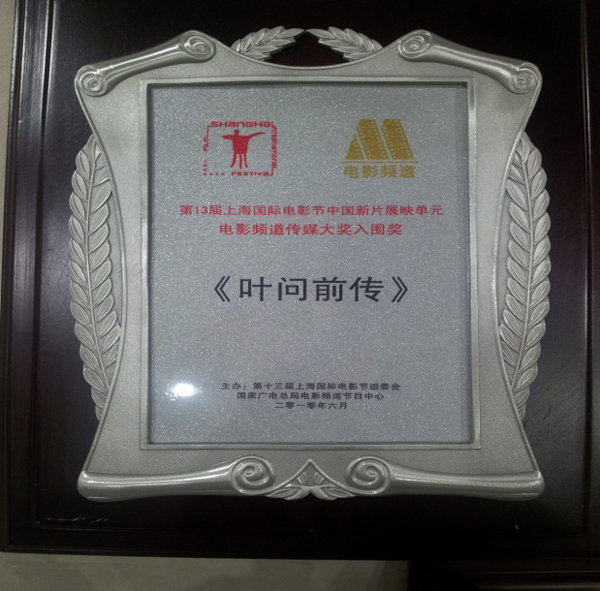 3、香港电影金像奖:最佳新演员- 杜宇航(叶问前传)
Hong Kong Film Awards: Best New Performer – To Yue Hong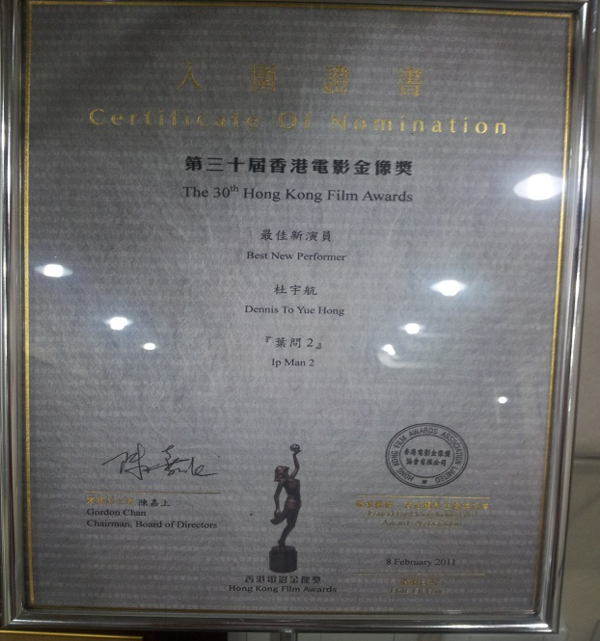 4、黄玉郎手绘《叶问前传》画像
The drawing of The Legend Is Born – Ip Man by Wong Yuk Long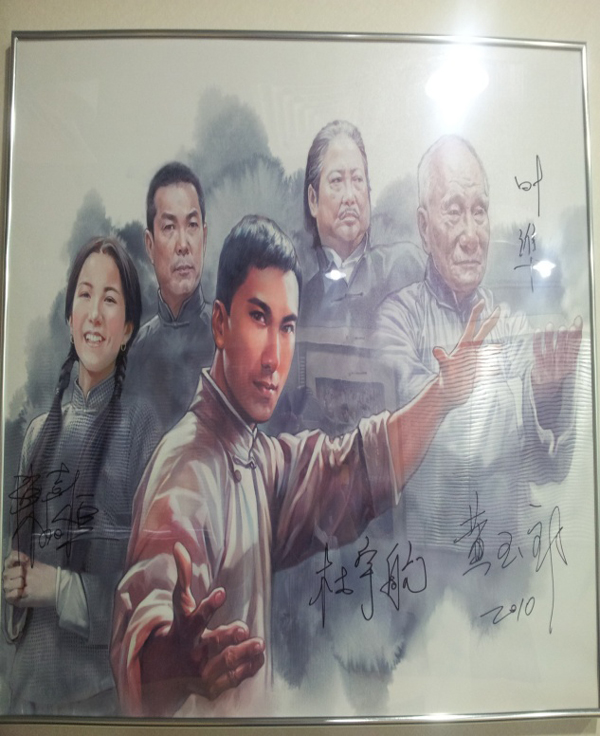 5、黄玉郎手绘《叶问前传—叶问(杜宇航)》画像
The drawing of Ip Man from The Legend Is Born – Ip Man by Wong Yuk Long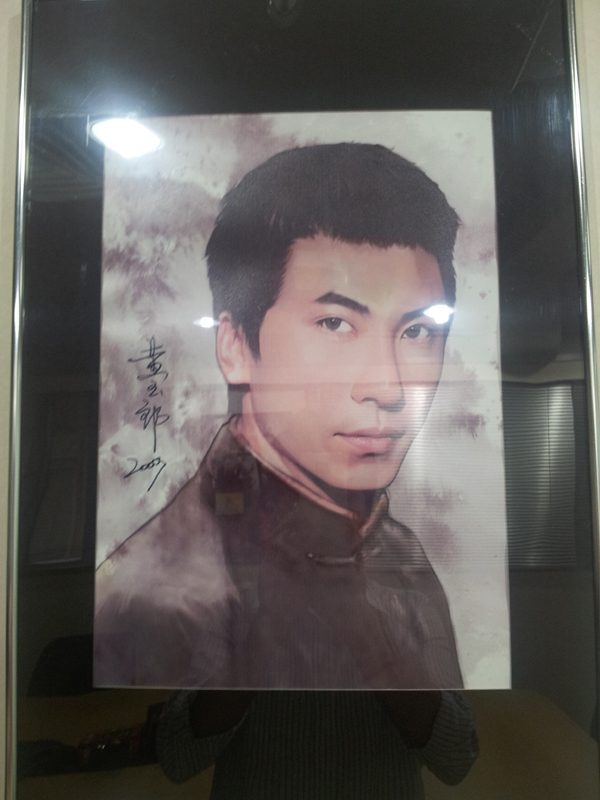 6、黄玉郎手绘《叶问前传--李美慧<(陈嘉桓)》画像 The drawing of Lee Mei wai from The Legend Is Born – Ip Man by Wong Yuk Long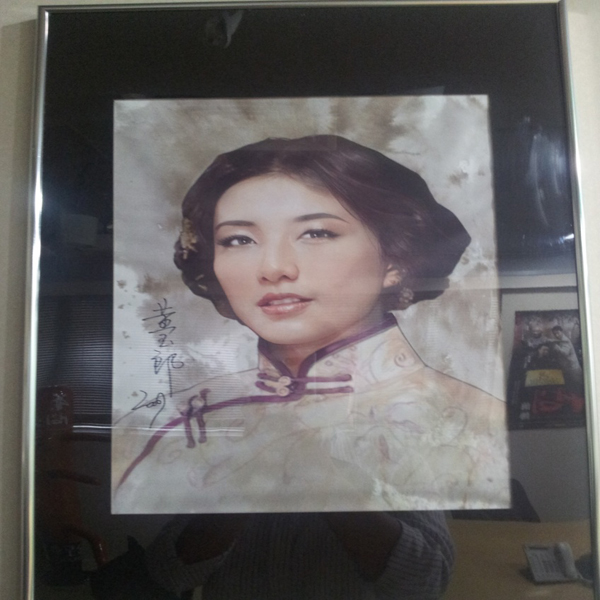 7、叶问前传宣传小册子 Promotion brochure of The Legend Is Born – Ip Man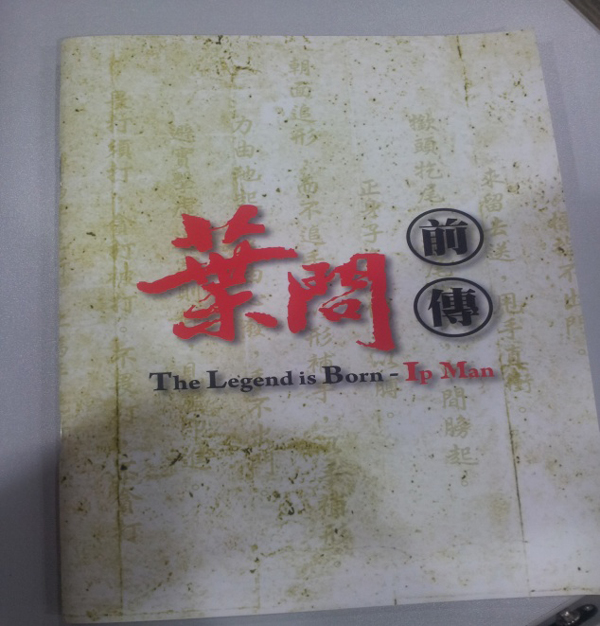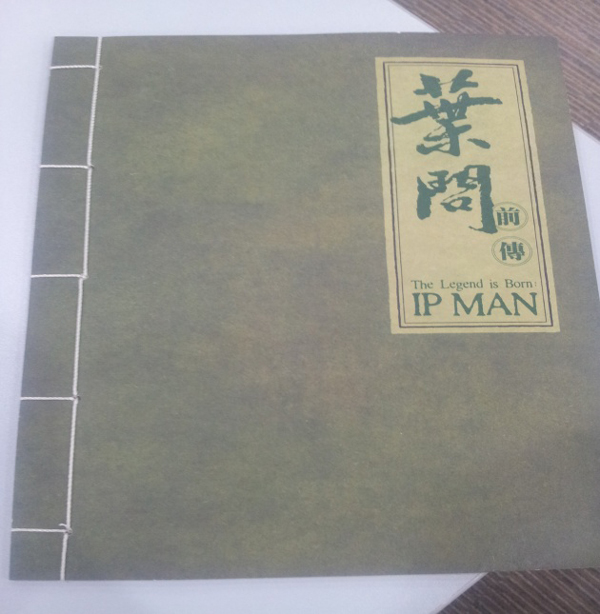 8、叶问模型 Ip Man's model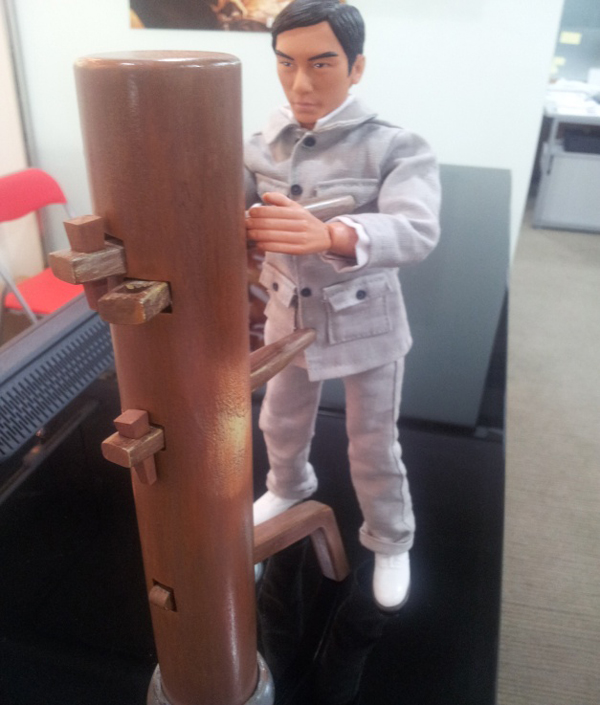 9、叶问前传戏服 The costume of The Legend Is Born – Ip Man
(1)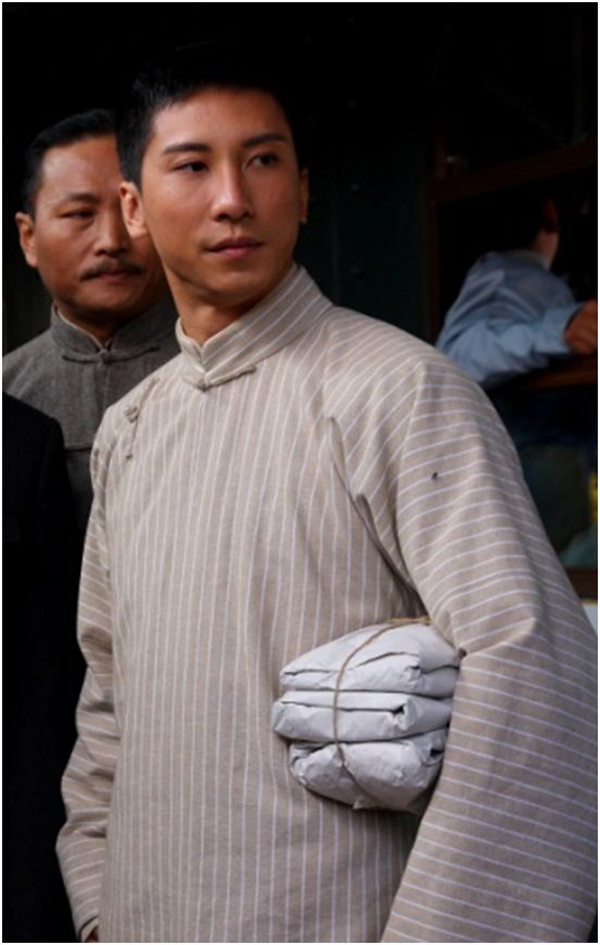 (2)