思源堂文字大纲
图版S1:
文字说明:佛山地处富饶的珠江三角洲腹地, 地扼西、北两江之冲,区位优势以及良好的自然环境、发达的农业,使佛山从唐宋时期起逐步发展成为岭南的大都会。
历史上佛山经济繁荣,但地幅狭小,地势平坦,天然防御条件差,且地处广州西南部交通要道,为兵家必争之地,在军事上有重要的地位,也造成了民间尚武的风气。明末清初,佛山独特的环境引起各地反清志士的重视,纷纷潜入佛山发展反清秘密组织,使佛山成了天地会在广东的重要活动基地,也进一步推动了佛山武术的发展。
始建于明代万历年间的佛山琼花会馆,在粤剧发展史上起过重要的作用,在佛山武术发展方面同样发挥过重要的作用。与詠春拳在佛山的传播也有着密切的关系。据传清初已有反清志士流落琼花会馆,在戏班中教授武术,灌输反清复明思想。至道光年间,在琼花会馆中有黄华宝、梁二娣、陆锦及凤凰仪班著名二花面李文茂等武林高手。在佛山一直流传的说法中,梁赞正是在此随梁二娣、黄华宝习得詠春拳术。
S1:
Illustration:
Foshan is at heart of the abundant Pearl River Delta.With its location advantage,excellent natural environment,modern agriculture and well transportation network, Foshan's economy has developed rapidly,becoming a Canton metropolis since Tang and Song Dynasties.
Foshan was prosperous and wealthy in their history,yet its land size was small with mostly flatland that made it lack of natural defense ability.Being located in the West of Guangzhou and the main transportation network,it was a place where the soldiers must fight for as they must passed by.
During the late Ming Dynasty and the early Qing Dynasty,Foshan's unique economy and militarism aroused many anti-Qing activists from different parts of China to sneak into the vicinity and established secret anti-Qing organizations.It was an important base of the Tiandihui in Guangdong.
Founded in the Ming Dynasty,Foshan's "Qionghua Guild" was the cradle of Cantonese opera as wall as the stepping stone for the development of Kungfu in Foshan.
It was said,in the early Qing,there were many anti-Qing activists like Tan Sau Ng stranded to "Qionghua Guild".They taught martial arts and infused anti-Qing sentiment.Unitil Daoguang's period,martial arts masters like Wong Wah Bo,Leung Yi Tai,Luk Jin and Li Man Mou of the Feng Wong Yi Theatre were at "Qionghua Guild".Here was also where Leung Yi Tai and Wong Wah Bo taught Leung Jan Wing Chun.
照片1:

图片说明:乾隆《佛山忠义乡志》记载琼花会馆在佛山古镇版图上的位置
Caption:Location of "Qionghua Guild", "Foshan Loyalty Town Record"Qianlong version.
照片2: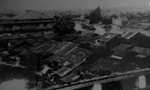 图片说明:历史上的佛山经济发达,图为汾江两岸繁华景象
Caption:Prosperity scence of Foshan in the history.
照片5: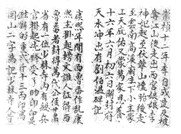 图片说明:天地会秘密文件---会簿(姚本)
Caption:The Society's
天地会荟萃了各地武林精英于佛山,风气所及,各派武林高手也纷纷来佛山潜伏和发展,其中詠春、蔡李佛、洪门更是以佛山为基地,从而造就了一大批出类拔萃的武林精英。
There were many excellent Kungfu elites in Tiandihui,they popularized Kungfu and created a fruitful atmosphere for Kungfu.Hence,many Kungfu practitioners gathered in Foshan and started to develop,among them,Kungfu like Wing Chun,Choy Lee Fut and Hong Kuen made Foshan their bases of development and a lot of Kungfu elites were born in here.
照片7: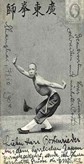 图片说明:清代广东特别是佛山武馆林立,图为外国明信片的广东拳师
Caption:Many Kungfu schools were set up in Guangdong,especially Foshan during Qing Dynasty.The photo shows a boxer from Guangdong.
照片8: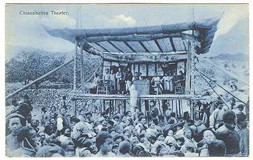 图片说明:清代本地粤剧戏班在简易的戏棚演出
Caption:The photo shows the performance by a local Cantonese Opera troupe at a shed during Qing Dynasty.
照片9: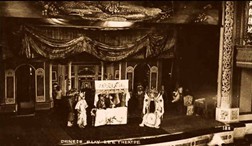 清代本地粤剧戏班在戏院演出
Caption:Performance by a local Cantonese Opera troupe at a theater during Qing Dynasty.
图版S4
说明文字:琼花会馆有众多武林高手。其中广东天地会首领李文茂武功高强。同治版《南海县志》载:"李文茂者,素骁勇,善击刺,日习焉。咸丰四年,竞率其党倡乱,及败,竞无确耗,岂果学雪窦禅师耶?乃潴其馆曰梨园者,严禁本地班,不许演唱。"方志对李文茂天天练武的记载,反映了当时琼花会馆的习武风气。Caption:There were many Kungfu masters in "Qionghua Guild".Fong Chi mentioned Li Man Mou practiced everyday,reflecting the atmosphere of learning Kungfu in "Qionghua Guild"at that time.
照片10: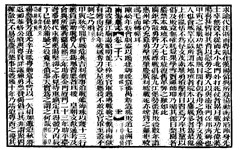 图片说明:《南海县志》对李文茂习武的记载
Caption:"Nanhai County Record" recorded Li Man Mou's practice.
照片11: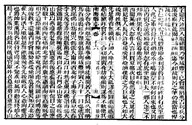 清代咸丰四年(1854),佛山凤凰仪班的红船弟子李文茂率领粤剧艺人在佛岭汇合天地会首领陈开在佛山等地起义,响应"太平天国"革命活动。因头扎红巾,世人称之为"红巾军"。李文茂起义给腐败的清政府予沉重的打击,在中国历史上、尤其在戏曲史上写下了光辉的篇章,图为《南海县志》对李文茂起义的记载。
Caption:In 1854,Li Man Mou,the Red Boat disciple of the Foshan Feng Wong Yi Theatre leaded group of Canton Opera actors and actresses to revolt together with Chan hoi,the leader of the Tiandihui,in Foshan and other places in response to the Heavenly Kingdom's revolution,The revolutionaries tied their heads with red clothes and were later known as the "Red Clothes Army".Li Man Mou The revolution by Li Man Mou brought a heavy strike to the corrupted Qing government,they made a bright influence in the Chinese history and Chinese Operas.Picture shows the record of Lee Man Mou's Revolution in "Nanhai County Record".
照片12: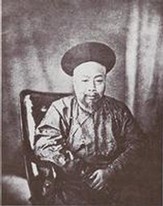 图片说明:镇压红巾军起义的两广总督叶名琛
Caption:Ip Ming Sum,Viceroy of Liangguang.He cracked down on the revolt by "Red Turban Army".
1854年7月5日,广东天地会在佛山起义。起义失败后,清政府下诏焚毁琼花会馆,禁演粤剧,残杀粤剧艺人。
On 5th July,1854,Guangdong Heaven and Earth Society staged an uprising in Foshan.The revolt went into failure,the Qing government ordered to burn the "Qiongwah Guild",forbidden any Canton Opera performance and to kill Canton Opera artists.
照片13: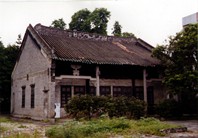 图片说明:曾作为红巾军指挥部的佛山经堂古寺
Caption: Jingtang Temple, Red Turban Army's Command in the past